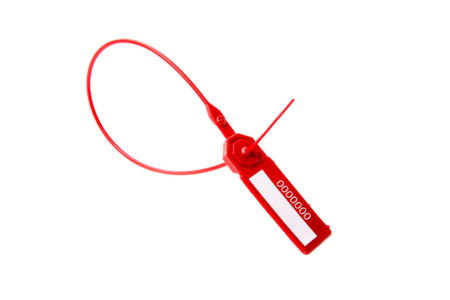 SARIMA 5
Plastic seal with metal insert of operational length 255 mm and diameter 2,0 mm, with numbering and white panel for writing. Application for transport, storerooms, measuring devices, receptacles.
TYPE OF APPLICATIONS:




Colors
Other colors available on request.
Characteristics:
– Plastic tightened seal with metal insert
– Operational length 255 mm, total length 342 mm, diameter of strong, smooth strap 2,0 mm
– Tensile strength: 12 kg
INSCRIPTIONS:
– Consecutive, unique numbering
– White panel for writing
– Option: logo, company name, etc.
– Inscriptions made of a durable hot foil method
– Possibility of bar code overprints
PACKAGING:
– Joined in mats of 10
– In bags for 100
– In cartons of 1.000
– Carton dimensions: 25 cm x 42 cm x 19 cm
– Carton weight: 4,00 kg